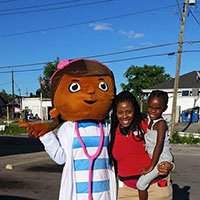 Every landmark in a child's life is a celebration to a loving parent. The first smile., learning to walk,. going to school, riding a bicycle and more. "Being in the business of children's' entertainment we are involved in the parents' desire to celebrate their child with an exceptional and memorable experience.
Many children spend hours watching their favorite characters on TV shows and movies. They daydream and play act that they are a princess with magical abilities or a superhero that climbs walls and slings webs. At night they are cuddled up in bed clutching a favorite toy like their fantasy hero. During the day they parade around in a superhero costume or princess dress all in an effort to become the person they admire most.
As an entertainer it is gratifying to bring a child the gift of having their dream come true. Their special character at their house on their birthday – the most special day of the year.  Recently I was balloon animals at a charity event  when a woman and her daughter recognized me. Ten years ago I had dressed up as Dora the Explorer and been a part of her 3rd birthday celebration. She was a huge Dora fan and claims to still love the cartoon character. At first, the child was fearful of the big mascot Dora. After a short time she grew comfortable and eventually couldn't be separated from her best friend, DORA. To this day, mom and daughter fondly share memories of the event.
Often when I'm face painting eager, young children I tell them I have the best job in the world because it's so much fun and I love working with children. After 27 years in business, it's heartwarming to run into parents and children who remember a time when were able to make their fantasy come to life.