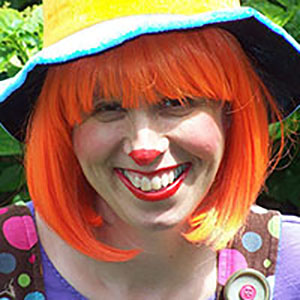 Miriam Gardner-Ryan (a.k.a. Funnie) graduated from Indiana University in 1983 with a bachelor's degree in Theatre. Originally from Chicago, she performed in a variety of off-loop performances and won starring roles in Lorca, Christie and Ibsen productions.
One day, while nursing her baby backstage, she decided her true passion was kids. She founded Absolutely Fantastic Parties for Kids in 1990, merging her passion for performing with her love for youngsters. At that time, there were less than a handful of children's entertainers in the Indianapolis area.
In her new role as a professional clown, she traveled the state, discovering Indiana's rich diversity from the backyard's and living rooms of its many unique communities. She loves being called Winnie "Le" Pooh and will never stop trying Indian food even though her eyes love it more than her stomach.
Miriam lives in downtown Indianapolis with her husband James. She has four crazy kids, three smart and silly grandkids, and two troublemaking dogs. She believes wearing a mascot costume in August is worth every hug and smile.
---
It started the year we had Halloween in May…
My 5-year-old daughter wanted to be a witch for her birthday. And, I thought, why not?
I'm Miriam, better known as Funnie. I keep Indy's kids smiling with awesome entertainment that packs much more fun than the average party.
I've been doing silly things to make kids smile for as long as I can remember – professionally, since 1990.
Childhood is short, and your kids deserve to have as much fun as possible.
That's why we always go above and beyond to make your event memorable.
My team and I are multi-talented performers and true "kid people." Unlike other entertainers, we don't believe in rigid routines. We adapt to every audience and always come prepared with the right games, activities and attitudes to make sure your kids have a great time.
For over 25 years we've been rocking parties and special events for a variety of Indy's organizations, including; the Indiana Pacers, the Indiana Fever, Indianapolis Public Schools, Children's Bureau, Target, McDonald's, Burger King, Hilton, Radisson, Texas Roadhouse, and many more.
From face painting and balloon animals, to sing-a-longs and magic shows, we do it all.