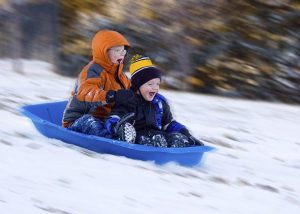 Winter is a wonderful season for children. Snow is beautiful and enjoyable. The kids get bundled up in layers of snow-pants, boots, scarves, hats, gloves, and warm coats to trudge out into the snow. Sledding, snowball fights, snow angels, ice skating and more become experiences that can't be duplicate any other time of the year.
But what about birthday parties?
What do parents do when they have children with winter time birthdays? In Indiana, you can't have parties outside in the park or back yard, so you have to explore other options. There are many indoor options with arcades, bowling alleys, pizza parlors, etc. And of course, there's nothing wrong with your living room or family room.  A party at home is obviously less expensive, but it could be more work with set up, decorations, and clean up.  Still, it's simple, affordable, and can be more centered on the birthday child than at a busy venue. One way to enhance a home party is to have a favorite character come to entertain. It could be a princess, super hero, magician, face painter, and/or balloonist. These entertainers can delight the kids for an hour or so and relieve you from the burden of keeping the kids busy.
The main thing is to not let these cold, wintry months ruin your child's chance to celebrate their happiest day. Have fun with entertainment indoors! Call us for ideas, even if you don't want to book an entertainer.