Some of my best memories as a child are of going to our local public library with my best friend, Lisa. We would check out a pile of books and then go to her house and read to our hearts content. We enjoyed fantasy, adventure, exciting biographies, and fun non-fiction books about our favorite animals… and more.
Summer was an exceptionally good time to fall into a great book. Either lying in a hammock outside or on a  couch in an air-conditioned living room, reading was the BEST summer escape.
Nowadays kids are flooded with great recreational options. Reading a terrific book now competes with mesmerizing video games and a huge variety of TV shows and movies. The simple written word is easlily overlooked and dismissed.
However, the Indianapolis Public Library has offered a great solution to this dilemma. Every year for the last 100 years, the library has offered children of all ages The Summer Reading Program
This year the theme is "Keeping it 100" in honor of the 100th anniversary
Kids register at the library and receive a score card. For every book they finish reading they are awarded a certain amount of points. Once they earn the points, they can redeem them for fun prizes like candy, toys, paperback books, or even free admission to some of Indy's finest attractions. The Indianapolis Public Library will be hosting their 100th Summer Reading Kickoff at many locations. We are happy to be a part of the celebrations for three branches this year. Catch us for some free face painting or balloon animals.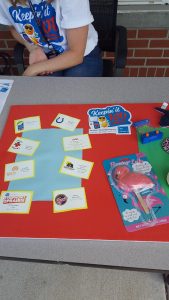 Saturday June 1 at Spades Park Library
1801 Nowland Ave 46201
2-4 p.m.
Saturday June 8 at West Indy Library
1216 Kappes St 46222
2-4 p.m.
Thursday June 13th at Haughville
Michigan and King Drive
4:30-6:30p.m.