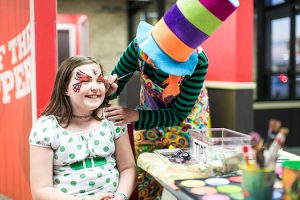 Give your child time to warm up to the character – especially if they are 3 and under.
Be sure there is enough room for the entertainer to gather all the children
Light will be important to our face painters
We often do balloon animals last because they tend to pop
Keep balloons off of grass and concrete to prevent popping
Some costumes are very hot. Please be considerate of the entertainer
Take as many pictures as you like!
Tell the entertainer where you want them to stand for pictures
Balloons are a suffocation hazard. Please make sure your children don't put them in their mouths.
When the entertainer is ready to leave, please have payment ready as they may be on a tight schedule to get to another party. Having to wait for payment could make them late.